The Outlaws (BBC One/Amazon Prime Video)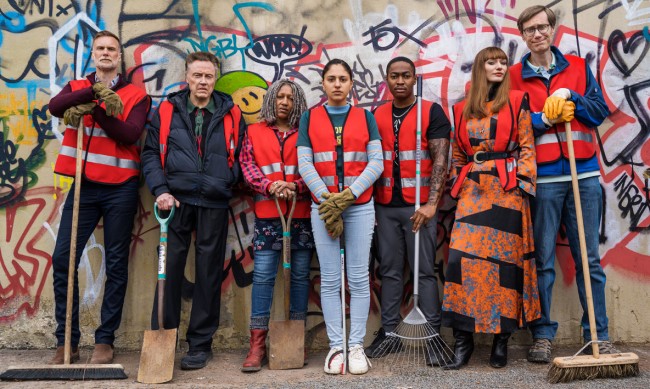 Channel: BBC One/Amazon Prime Video

Production Company: Big Talk Productions/Four Eyes Productions

Writers: Stephen Merchant, Elgin James

Director: Stephen Merchant, John Butler (series 1); John Butler, Alicia Macdonald (series 2)

Producer: Nickie Sault (series 1); Fran du Pille (series 2)
Comedy thriller written and directed by Stephen Merchant, starring Christopher Walken, Stephen Merchant, Rhianne Barreto, Gamba Cole, Darren Boyd, Clare Perkins, Eleanor Tomlinson, Jessica Gunning and Charles Babalola. Seven strangers from different walks of life are forced together to complete a Community Payback sentence in Bristol.
Production for series one and two was based at The Bottle Yard Studios where sets were built for key interiors, including: the home of the daughter of 'twinkly-eyed small-time crook' Frank (Christopher Walken), offices of family business 'Halloran & Son', the probation offices where the seven strangers meet; lawyer Greg's flat, civil rights veteran Myrna's flat, gang member Malaki's basement, police cells and interview rooms.
Bristol Film Office assisted the production to secure Sea Mills Community Centre as its main city location, decorated for the role by Bristolian graffiti artist 'Inkie'. A piece of art created by Banksy was also added to the buwalls and painted over by Christopher Walken's character in the final episode of series one. The two series shot back-to-back over 18 months between 2020-21, a period that was lengthened due to the COVID-19 pandemic. Bristol Film Office supported filming at numerous locations for both series one and series two.
Series one producer Nickie Sault said: "After the very first national lock down happened in March 2020, the co-operation and support from both the Bristol Film Office and The Bottle Yard Studios was integral to us being able to remount our show and come back both safely and stronger than ever. We were only 12 days into shooting Series 1 of The Outlaws when we had to shut down.
"When we started filming Series 1, we were firmly planning to shoot everything on location, we had no plans to build any sets at all. But during the lockdown Series 2 was commissioned, so when we came back up we came back with not just six but 12 hours of TV. Due to Covid, for safety, we made the decision to build most of our locations at the studios instead of shooting live on location. The Bottle Yard Studios and Bristol Film Office could not have been more flexible and more supportive to our ever-changing circumstances. I would return to shoot in Bristol in a heartbeat."
Stephen Merchant said: "Bristol is a very visual city, with its hills and the harbourside. It has so many angles which gives you a lot of depth and texture when you're filming. We really tried to capture the DNA of the city in the show. Filming through the pandemic meant that we were like a team in the trenches at times, I'm very proud of what we achieved. In this series, we just keep trying to turn the heat up on our characters as the series progresses."