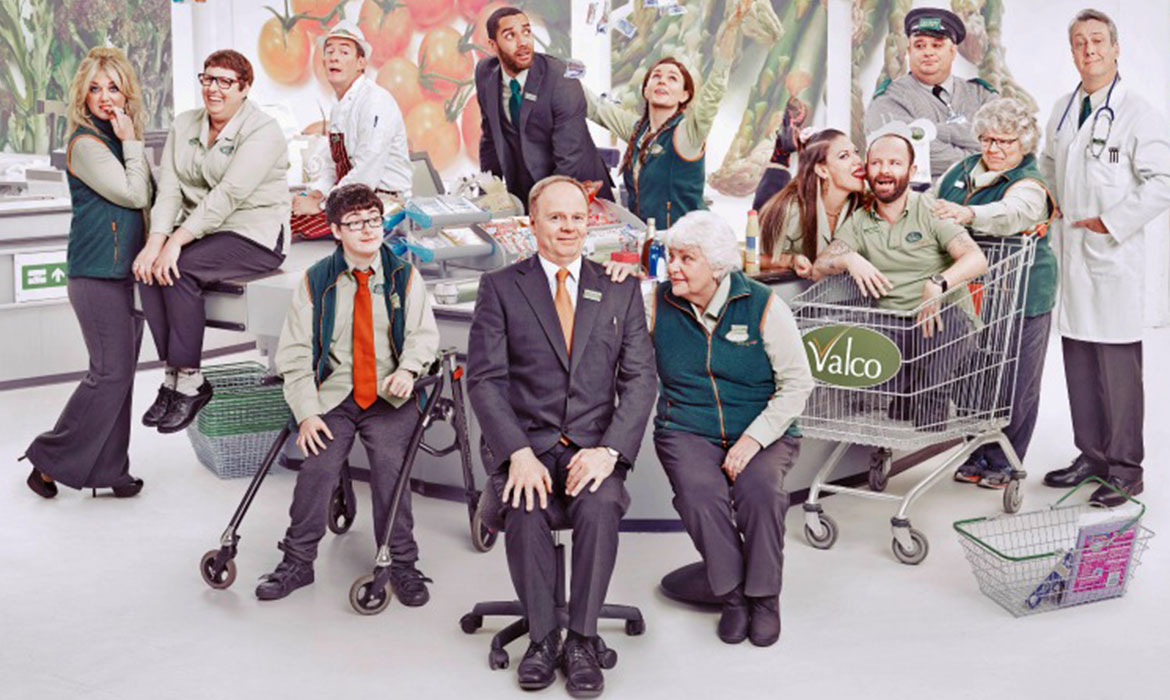 Channel: Sky1

Production Company: Roughcut Television

Genre: Sitcom

Writers: Paul Doolan, Ash Atalla, Anne Marie O'Connor,Abigail Wilson, Chris Hayward, Nat Saunders, Ben Edwards, Rachael New, Adrian Poynton, Stuart Farrell, Julie Rutterford, Amy Shindler, Richard Preddy, Alexander Smith, Hannah George, Christine Robertson, Danny Robins

Directors: Jonathan Gershfield, Paul Harrison, Paul Walker, Paul Murphy, Keri Collins, Sarah O'Gorman

Producers: Alex Smith, Nick Goding, Sue Howells. Rebecca Murrell, Rachel Salter
Long-running supermarket-based sitcom, which starred a range of talent including Jason Watkins, Sarah Parish, Stephen Tompkinson, Jane Horrocks and Miriam Margolyes. Seven series and four Christmas specials were made at The Bottle Yard Studios between 2011-2018.
Trollied made The Bottle Yard its home in 2011 when it built an authentic full scale replica supermarket set using 1,480 sqm / 15,945 sq ft of space in our Export Warehouse. Series one debuted in August 2011 as the most successful multi-channel comedy ever. In following years the production went on to expand into the Studios' Main Warehouse, adding three additional smaller sets and a comprehensive Production Village including dressing rooms, make up and costume areas.
From the outset the team was proactive about cutting carbon, taking a sustainable approach to transport, props and lighting for example. Series four became the first Sky production to gain certification from albert+, the industry's best practice carbon reduction scheme, achieving the highest rating available of a 3 stars.
After seven series and 70 episodes, Trollied came to an end in 2018. When striking sets, as much as possible was recycled, with shelving given away and furniture sent to local hospices.
Read: Trollied albert+ case study