About us
The Bottle Yard Studios in Hengrove, South Bristol, is the largest film and TV studio in the West of England.
11 stages are available; eight at our main site and three at TBY2, our neighbouring expansion facility which opened in 2022 offering premium, fully sound-proofed shooting space, powered by the largest community-owned rooftop solar array in the UK.
Floor areas of up to 22,000 sq ft and heights of up to 34ft provide endless opportunities for set builds.
With a 5,000 sq ft green screen, 35,000 sq ft of furnished production offices and ample ancillary workspaces – plus a creative hub of on site companies delivering industry services – we've got everything required for a fully supported shoot. View our brochure here.
The Bottle Yard Studios is a Bristol City Council initiative backed by West of England Combined Authority investment.
Our beginnings 
Bristol City Council opened The Bottle Yard Studios in 2010, providing a modern purpose for the cavernous Tank Houses standing on the seven acre Whitchurch Lane site which had for more than 50 years housed a winery and bottle plant – including at one time the production line for three million litres of Harvey's Bristol Cream per year.
At a time when demand for UK studio space was beginning to build, The Bottle Yard Studios brought this industrial site back to life, offering flexible space for productions of all sizes and budgets whilst strengthening Bristol's reputation as a leading filmmaking hub, stimulating local industry and creating employment and economic benefit.
Initially housing eight stages, The Bottle Yard hosted a stream of major high-end TV dramas, films, gameshows and children's programmes throughout its first decade of operations, made by UK and international clients.
Run by a small team with professional backgrounds in the industry, the Studios quickly became popular with producers thanks to its strong links to the region's experienced crew base, its partnership with Bristol Film Office which assists location filming in the city, and the easy access it offers to the wide range of locations on offer across the West and South West region.
Our expansion: TBY2, a Bottle Yard facility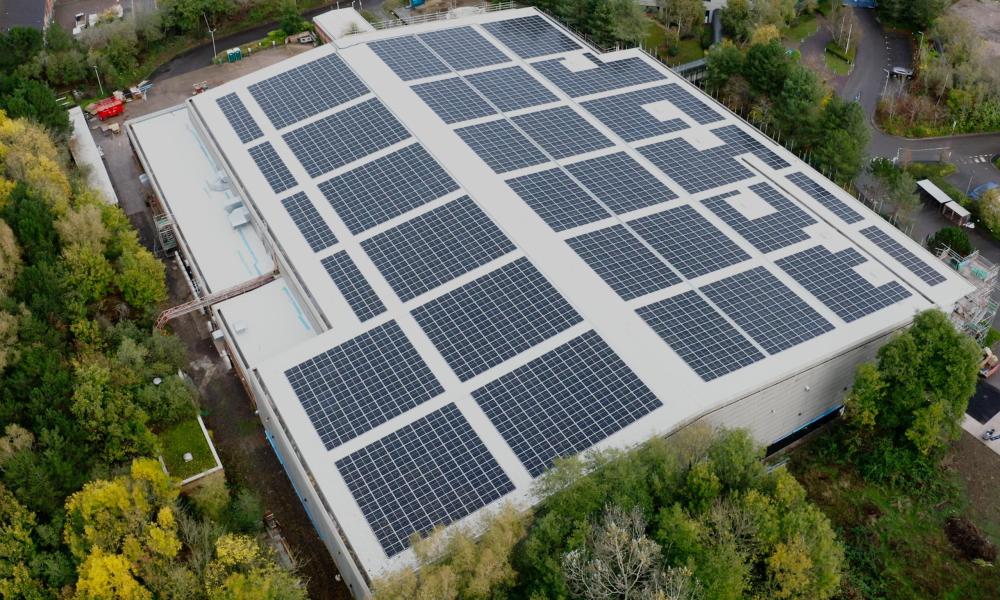 TBY2 Studios – The Bottle Yard's premium second facility – opened in 2022, increasing the number of stages offered across The Bottle Yard complex to 11, or 154,000 sq ft of shooting space across two sites.
Less than half a mile from the main site, TBY2 is a £12m redevelopment of industrial buildings on Hawkfield Way, backed by West of England Combined Authority Investment.
The state-of-the-art facility houses three sound-proofed stages ranging from 7.000 sq ft to 20,0000 sq ft of clear span build space, accompanied by more than 40,000 sq ft of ancillary space.
TBY2 Studios is a powered by a gigantic 1MWp solar rooftop array consisting of more than 2,300 photovoltaic (PV) panels.
Funded by the Bristol Energy Cooperative, it is the largest community-owned solar rooftop array in the UK, capable of generating the equivalent amount of energy needed to power 250 average households per year.
Designed with sustainability in mind, TBY2 also has a sophisticated building management system that controls built-in heating, cooling and ventilation in all stages, to optimise energy conservation.
Read more about TBY2's innovative sustainability features here.
Supporting employment and skills development
135 jobs were created during TBY2's redevelopment works and more than 860 jobs are expected to be created over the next 10 years through the Workforce Development Programme that accompanies The Bottle Yard's WECA-backed expansion plan, focused on high-end TV skills and targeting development of new talent in South Bristol.
Bristol City Council has appointed an Industry and Community Outreach Coordinator to liaise between the film and TV industry and local skills and education bodies including schools, colleges and universities, to further strengthen the city's film and TV production workforce.