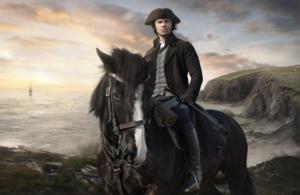 Channel: BBC One

Production Company: Mammoth Screen

Genre: Drama

Writer: Debbie Horsfield

Directors: Ed Bazalgette & William McGregor (series 1); Will Sinclair & Charles Palmer (series 2); Josh Agnew & Stephen Woolfenden (series 3)

Producers: Eliza Mellor (series 1); Margaret Mitchell (series 2); Roopesh Parekh & Michael Ray (series 3)
Award-winning BBC One drama set in 18th Century Cornwall, starring Aidan Turner and Eleanor Tomlinson. Series one filmed for six months in 2014, with sets for key interiors built in Tank House 2 including The Red Lion pub and 'Nampara', Ross Poldark's home.
The team returned in 2015 for series two's seven month shoot, building additional sets and basing a full costume department on site, complete with sewing, dying and fitting rooms.
Series three filming ran from September 2016 – February 2017, with Tank Houses 1 and 2 used for set building and further space used for construction, prop workshops and the extensive costume department.
Series four began production in September 2017.
All four series' location filming across Cornwall, Bristol and Wiltshire has been coordinated from the Studios' production offices, with Bristol Film Office providing location support.