We were pleased to host the first West of England Initiative meeting of the year on 21st March, which saw approx 150 business leaders from across the region visit The Bottle Yard Studios to find out more about its development to date and discuss investment and regeneration plans for our local area.
Following an introduction from our site Director Fiona Francombe, there was a discussion about the different challenges facing South Bristol and how to address them. Speakers included James Durie  (Bristol Initiative), Colin Molton (Bristol City Council), Mike Norton (Bristol Live), Karin Smyth (MP for Bristol South). The panel debate included speakers from City of Bristol College, Bristol Sport, Taste Tech and The Park Centre. The evening concluded with a Studio tour, giving members a look at what goes on behind the scenes.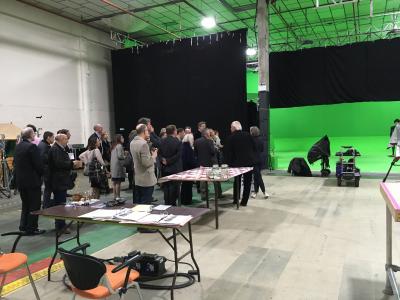 The West of England Initiative is a business leadership team which enables the business community to positively influence the way our area is shaped, managed and developed. It works with Local and National Government, the Local Enterprise Partnership and the third sector, acoss the authorities of Bristol, South Gloucestershire, Bath & North East Somerset, and North Somerset.
The West of England Initiative and its partners are committed to creating an economically and culturally prosperous region, devoid of inequality and poverty. It is part of Business West, which represents and works with 18,000 businesses over the South West. https://www.businesswest.co.uk/