First look images have been released for the much anticipated upcoming BBC One and Prime Video psychological thriller Chloe, from Mam Tor Productions, which filmed earlier this year at The Bottle Yard Studios and on location in Bristol with support from the city's Film Office.
Set in Bristol and created by Alice Seabright (writer/director, Sex Education), the six part drama stars Erin Doherty (The Crown), Billy Howle (The Serpent), Pippa Bennett-Warner (Gangs of London), Jack Farthing (Poldark), Poppy Gilbert (Stay Close), Akshay Khanna (Grace) and Brandon Micheal Hall (Search Party).
Becky Green (Erin Doherty) has been watching Chloe Fairbourne (Poppy Gilbert) via her perfect social media images for some time; Chloe's charmed life, adoring husband and circle of high-achieving friends are always just a click away. Becky can't resist watching a life that contrasts so starkly with her own; a life spent caring for her mother, who has early-onset dementia, in their small seaside flat on the outskirts of Bristol. When Chloe dies suddenly, Becky assumes a new identity and infiltrates the enviable lives of Chloe's closest friends to find out what happened to her.
The newly released pictures show Becky and her alter ego, Sasha, as she manufactures situations in order to meet Livia (Pippa Bennett-Warner) and Chloe's other friends, to get to the truth of what really happened.
Taking full advantage of Bristol's rich cultural scene from the art to music, Chloe will also feature the work of artists local to the region, including an original score composed by Will Gregory (Goldfrapp) featuring Adrian Utley (Portishead) and Alison Goldfrapp.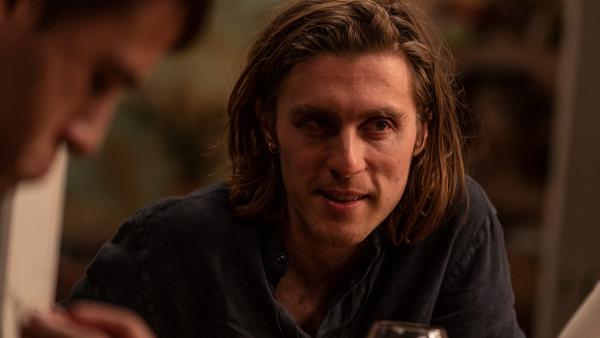 Chloe (6×60') is a co-production between BBC One, Mam Tor Productions and Amazon Studios, and was commissioned by Piers Wenger, Director of BBC Drama and Charlotte Moore, BBC Chief Content Officer. It is created, written, and directed by Alice Seabright who also serves as an executive producer. The series producer is Joanna Crow (Giri/ Haji) and second block director is Amanda Boyle (Skins). Executive producers are Tally Garner (Jonathan Strange & Mr Norrell) and Morven Reid (Pure) for Mam Tor Productions, and Ben Irving for the BBC.
Chloe will premiere in 2022 on BBC One and BBC iPlayer in the UK and will be available on Prime Video in the U.S. and more than 240 countries and territories worldwide.
(All images courtesy Mam Tor Productions/BBC/Prime Video)