Young viewers are thrilled to have Andy Day back on screens this week with brand new CBeebies series Andy's Safari Adventures which kicked off on Monday 12th February – and the kids' TV favourite is already back at work at Bristol's Bottle Yard Studios where filming for a further 20 new episodes is now underway.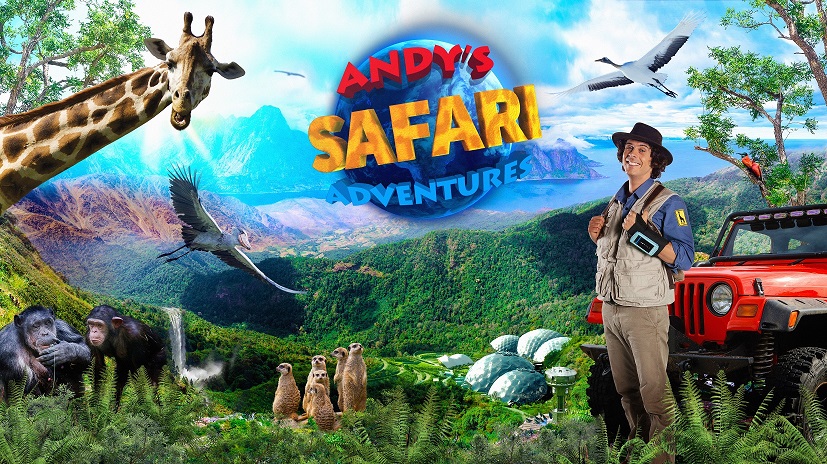 Produced by the BBC's world-renowned Natural History Unit, Andy's Safari Adventures is made using the latest digital CGI and green screen technology with footage from the BBC's archive and filmed in The Bottle Yard Studios' M3 studio, using the giant purpose built green screen measuring 80ft x 40ft m x 27ft. Filming of 20 x 14 min episodes took place Studios between March and May last year, and the production team is now back at the Studios to shoot a further 20 episodes between February and June.
Andy's Safari Adventures on set at The Bottle Yard Studios image © BBC
Series Producer Mark Jones says: "The Bottle Yard's green screen is an invaluable resource to have here in Bristol and incredibly useful for productions like ours which rely on compositing archive from the world famous natural history unit. By using this facility and the space it offers, we're able to bring ambitious and complex content to life. We're in production for our next 20 episodes and we'll be simulating all sorts of scenes from climbing and driving, to flying and swimming. There's no better filming playground in the world than a green screen studio!"

Andy's Safari Adventures on set at The Bottle Yard Studios, image © BBC
Andy works at Safari World, the biggest and best safari park on the planet, home to animals from all over the globe. He works there with his boss, Mr Hammond and tech wizard Jen, who monitors all the animals from the Control Tower. When disaster prevails, it's up to Andy to save the day. Jetting off in his safari mobile, he embarks on an epic adventure, travelling the globe in search of the animal that will help him put things right.

Andy's Safari Adventures on set at The Bottle Yard Studios image © BBC
Andy's Safari Adventures is a co-commission from CBeebies in the UK and BBC Worldwide for the international CBeebies channels. It is a continuation of the highly popular strand which comprises Andy's Wild Adventures, Andy's Dinosaur Adventures and the BAFTA-nominated Andy's Prehistoric Adventures which filmed at The Bottle Yard Studios in 2015.