Deadly Dinosaurs, the new series for CBBC and BBC Worldwide fronted by award-winning natural history presenter Steve Backshall, has begun this week, after filming at The Bottle Yard Studios last year.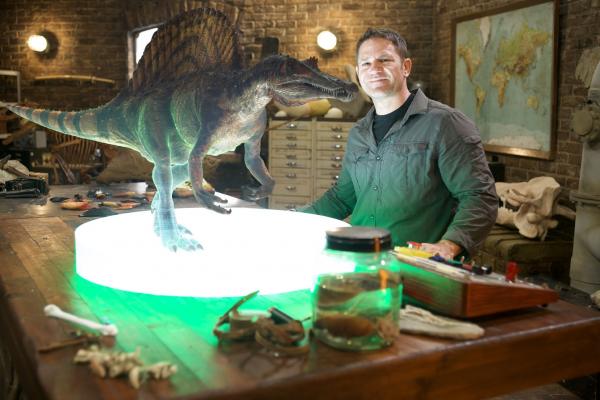 Deadly Dinosaurs © CBBC
The all new HD series comprises ten 30-minute episodes filmed over four weeks in October 2017 in our giant green screen studio, where sets included a top-secret 'Dino-Den' complete with fascinating props and a number of animal visitors. The entire production was coordinated from the Studio's production offices.
During filming, Steve performed a series of epic stunts and brutal physical challenges at the Studios to get a sense of the scale and raw power that dinosaurs had – featuring Spitfires, tanks, helicopters and monster trucks. Thanks to a series of huge engineering rigs constructed at the Studios, Steve recreates the power of an Ankylosaurs tail and the head butt of a Pachycephalosaurus. Using the latest modern technology, he even becomes a dinosaur crash test dummy – donning wing suits and night vision goggles to experience first-hand elements of dino design – on land, in the air and under the sea.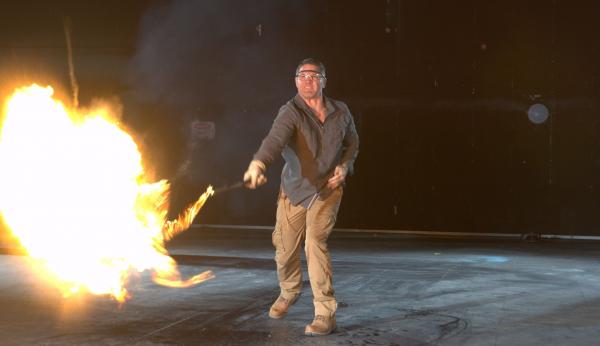 Deadly Dinosaurs © CBBC
Series Producer Dan Tapster says: "Filming at The Bottle Yard has been a really good experience – the studio itself is a great space but given all the other facilities on site from lighting rigs to camera hire, it made the whole operation remarkably efficient."

Fiona Francombe, Site Director of The Bottle Yard Studios says: "This ambitious BBC natural history series for children commissioned right here in Bristol is another great example of what can be achieved using our green screen studio, one of the largest of its kind in the country and the perfect playground for an exciting production like this featuring large engineering rigs and stunts requiring a lot of space. We hope to be able to welcome Steve back to the Studios back soon for more of the same."
Using cutting-edge CGI, the latest filming techniques and the stunning BBC archive, Deadly Dinosaurs brings the world's top Triassic terrors back to life as Steve examines their biology in eye-catching detail in his explorer's 'Dino-Den', graphically honing in on the best bits, from double-edged teeth to tails that can move so fast they break the sound barrier. In a series of epic and explosive experiments, Steve finds out first hand exactly what made the dinosaurs tick and whether their fearsome reputation will really let them make the Deadly List.
Each programme focuses on a theme, such as weapons, water or weirdness. Within every episode, a select handful of the best dinosaurs are reanimated in Steve's state-of-the-art studio, where he can highlight the wonderful adaptations that enabled dinosaurs to rule the earth for millions of years. Along the way Steve uses his dino know-how to show how mysteries like dinosaur die-outs, which have perplexed scientists for decades, have now been solved.
Watch Deadly Dinosaurs on Wednesdays at 5.25pm on CBBC.