Brand new BBC Two drama Wolf Hall will premiere on Wednesday 21 January at 9pm, after being filmed in Bristol last year. The highly anticipated adaptation of Hilary Mantel's Booker Prize-winning bestselling novels based production at The Bottle Yard Studios from May – August 2014 and filmed in Bristol with the support of Bristol Film Office.
Bristol locations that feature in the drama include the city's Harbour Walls and Bristol Cathedral, which doubles as Westminster Cathedral for the lavish coronation of Anne Boleyn scene. During the four month shoot, Wolf Hall also filmed at a range of locations across the wider region including the Cathedrals at Wells, Winchester and Gloucester, and six National Trust properties Montacute House, Barrington Court, Lacock Abbey, Great Chalfield Manor, Chastleton House and Horton Court.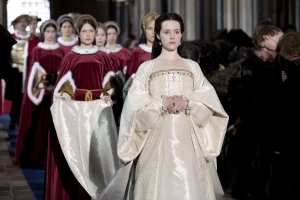 Bristol Cathedral doubles as Westminster Abbey in coronation of Anne Boleyn scene. (C) Company Productions Ltd – Photographer: Giles Keyte
Company Pictures, the London-based production company behind the drama, opted to return to Bristol to base Wolf Hall's production after using The Bottle Yard in 2013 as its base for Channel 4 Restoration drama New Worlds.
Fiona Francombe, Site Director of The Bottle Yard Studios said: "It was a pleasure to host Company Pictures whilst they made Wolf Hall last year. At pre-production stage they were extremely busy on site, building sets, stocking props and planning everything needed for a production of this scale. During production the convenient location of The Bottle Yard Studios on the doorstep of the South West meant that the team could easily access the impressive range of locations the region has to offer, both here in Bristol and at the beautiful period houses that feature in the drama."
Bristol Film Office's Natalie Moore said: "On a production of such impressive scale as this, we work closely with the production team to firstly assist with recces around the city so that they can find their perfect locations that will suit both the script and their filming needs. Once locations have been chosen, we assist with the shoot by liaising with the key local parties involved, in this case Bristol Cathedral and the Harbour Office, and by ensuring the right permits and parking arrangements are in place to help filming run smoothly.
"Inevitably there is often a huge amount of public interest in a production of this size. Big filming days can cause quite a stir; for example there were 140 extras in the coronation scene at Bristol Cathedral in June. The Film Office helps get everything in place to make shooting at a busy city centre location possible, so that on the day the production team can focus on the important business of filming."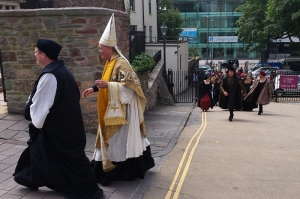 Cast and extras gather for filming at Bristol Cathedral, June 2014. Images courtesy of Bristol Film Office.
Wolf Hall premieres on Wednesday 21st January at 9pm on BBC Two. It is directed by Peter Kosminsky and written by Peter Straughan. Damian Lewis (Homeland) stars as Henry VIII opposite Mark Rylance (Jerusalem) as Thomas Cromwell. Claire Foy (The Promise) plays the calculating and ambitious Anne Boleyn. It is a co-production of Company Pictures and Playground Entertainment for BBC Two and Masterpiece in association with BBC Worldwide, Altus Media and Prescience.