In the first of our new 'Tenant Spotlight' series, we meet Don Smith, Company Director of SetSmith. Don reveals all about the world of scenery building and prop making, creating 17th Century village settlements for Channel 4's New Worlds, and what it's like being based at The Bottle Yard Studios.
1. Who are you and what do you do? I'm Don Smith, Company Director of SetSmith. We build scenery, props and sets on location and in our workshop. There's a core team of four of us, and we expand to meet demand as and when necessary. I've been working in this industry for about 20 years. I started out as an apprentice joiner, then became a shop fitter. Before setting up Set Smith I ran a scenery company called Lignarius for eight years, during which we worked on productions like Casualty, Skins, The Adventurer: Curse of the Midas Box as well as shop fitting for Jack Wills and other retail work.
2. What do you like about being based at The Bottle Yard Studios?
We moved into The Bottle Yard last May, when we were quite a new company. It's very convenient for us, for the work obviously! It's really enjoyable being in the cut and thrust of everything; we can help other productions as and when they need a hand. For example we're currently doing some little touches on Wolf Hall, who needed some extra help, so that's worked out really well. Productions often come to The Bottle Yard already crewed up, and we're hoping that more producers will become aware that they can get everything here in Bristol; scenery makers like us, but also art directors, designers and so on. I think it makes sense to make the most of the resources we've got here as a regional hub.
3. How's business?
Business is good at the moment – we had a bit of a quiet period at the beginning of the year, but its picked up now and we're getting more and more work on productions that are coming to The Bottle Yard, so that's good. We're currently working on Doctor Who and the Sky1 comedy Stella, as well as the work for Wolf Hall. In the past year we've worked on productions Deal or No Deal, The Mimic, Trollied and Casualty.
I was Construction Manager on Channel 4's New Worlds and we built all the major sets and did all the location work, ranging from a 17th Century settlement in the Forest of Dean (pictured below), to recreating Boston Harbour on Bristol Harbour, to making huts in woods, single rooms, locations in listed buildings – anything and everything really!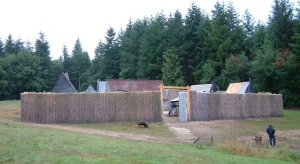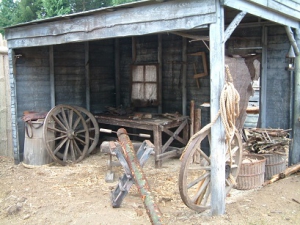 4. What's your favourite thing about working in film and TV production?
I love the variety of what we do. Every day is a challenge and we enjoy rising to that. The crew that I've got are excellent; some are ex-National Theatre, others are master carpenters from the Bristol Old Vic, so there's not much that phases us! We just enjoy the challenge, we've built everything from aircrafts to train tunnels, to caves, you name it, we've made it. You can't beat that for a day's work can you? Something new every day, something interesting that you enjoy building!
For more information about Set Smith, visit www.setsmith.co.uk, call 01275 836233 or email setsmith@live.co.uk.
To find out more about becoming a tenant at The Bottle Yard Studios, call 01275 890954.