In our latest Tenant Spotlight, we meet Lynn Mcfarlane, Founder of Drèsd, the latest addition to The Bottle Yard's burgeoning business community.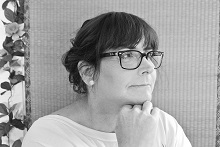 1. Who are you and what do you do?
We are Drèsd and we specialise in the sustainable clearance of film and television production sets in the UK. Working directly with the major film, television and production companies we collect waste from sets at a lower cost than standard skip disposal, then re-purpose and re-sell the salvaged materials to production houses, event companies and interior designers at a fraction of the cost of them buying everything new.
We also produce events ourselves and complete office re-fits using salvaged goods: each year we build the staging for the Observer Ethical Awards using reclaimed waste like the film production set of Les Miserables; in the case of 'Huckletree' co-working space in London's Clerkenwell district we used reclaimed, salvaged items from Keanu Reeves' movie 47 Ronin, car-racing thriller Fast & Furious 6 and BBC drama The Hour, to create desks, signage and many other things in their innovative, inspiring workspace.
2. What attracted you to open a new base at the The Bottle Yard Studios?
It's always been our intention to have regional bases located around the UK, to service the demands of our customers. To open a new centre in the South West so soon after moving into our new headquarters at Pinewood Studios is heartening for us as a business, and also speaks volumes about the growing demand amongst our domestic broadcast industry to deliver sustainable productions from concept to wrap.
We were attracted to The Bottle Yard by the space it provides, which enables us to offer a re-purposing prop house, design and build workshops for interiors and events, up-cycled set building, in house creative workshops and training. We'll also be running apprenticeship schemes in conjunction with The Bottle Yard, local schools, colleges and Bristol City Council.
3. How's business?
This year sees us moving forward with considerable pace, opening up at Pinewood and now here in Bristol; completing office re-fits and building the staging for high profile events for the film and fashion sectors. Like any start-up, there never seems to be enough hours in the day and there's always a challenge!
4. What's your favourite thing about working in the film/TV production industry?
The fact that no two days are ever the same, and the constant exposure to the vibrant creative spark amongst the many varied people you meet.