When the friendly folk at Bristol 24/7 asked us if they could visit us to find out more about what goes on behind the scenes at The Bottle Yard Studios, we introduced them to some of the talented Bristol people working day to day on site, bringing the many productions we host here to life. Take a look at the full feature on the Bristol 24/7 website.
Thanks to the following contributors for giving their time to help lift the lid on what they do at The Bottle Yard: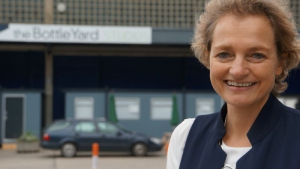 Fiona Francombe: Site Director
"The Bottle Yard was offered to the BBC as an alternative if Casualty was going to stay in Bristol. The BBC decided they were going to take Casualty to Wales anyway and I suggested that we looked to doing this anyway – and here we are.
"The Bottle Yard has just put the marker down that Bristol is serious. Shows like Galavant which is made by ABC and owned by Disney – that was really proof that we were delivering the right thing and we are delivering it well.
"Internationally there is nothing like having a company like Disney filming here and we are being talked about over there. People are ringing up about bringing major American shows into Bristol and that is amazing.
"What I hope is that by opening the doors to local people we can help them start their career. I'm hoping it's debunking the myth that it's some ethereal industry that nobody can ever get into – these are all very practical job jobs and it is an industry like any other. Carpenters building bathroom cabinets can also build sets, electricians can be working on a film set – they are all transferable skills."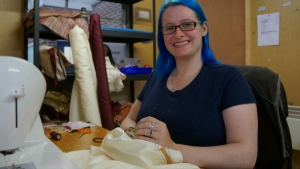 Liz Murphy: Seamstress for the drapes department in Galavant
"I didn't go the standard route of doing a degree in costume or drapes. About 8 years ago I started making costumes for myself. I'm completely self-taught – a trial and error sort of thing.
"My dad's friend is a prop master and Galavant were looking for someone to do the drapes for the pilot episode. He said he knew a girl who works at the hospital (Murphy worked in admin at the BRI stroke clinic) so I took my portfolio of things I had done as a hobby and they asked me when I could start.
"The best thing about my job is all the different things I get to make. I am not a generic drapes person – I can make pretty much anything fabric really so I've made toys out of thermoplastics, I get to do embroidery, I get to do drapes – I get to make anything and that is the fun thing.
"I am so thankful the Bottle Yard is here as it's 10 minutes from my house. It's not work – it is something I have grown up doing as a hobby. I do something I absolutely love all day and I get paid for it which is excellent and it's anyone's dream job."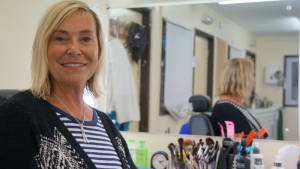 Pamela Haddock: Hair and make-up designer on Poldark
"When I first came here there was all sorts of dramas coming out of Bristol. Then the BBC closed down, HTV closed down and then Casualty stopped and a lot of people, myself included, had to get in the car to find work.
"I've got children and a life here in Bristol and for me the Bottle Yard has given me the opportunity to do what I like and live at home.
"There is a lot of great work coming in here – feature films, American series and now Poldark which is really good to do. I couldn't be more grateful and I know lots of people who feel the same about it.
"I've been doing make-up for 35 years and sometime the personalities you have sitting in your chair turns you into a bit of a psychologist…You are the last person they see before they go on and they want to feel confident so it's all about that – getting a relationship with them.
"The stress levels are high. I have to get everyone on there looking fantastic and everyone's expectations of how they are going to look are high. I have a lot of hoops to jump through but that is my job."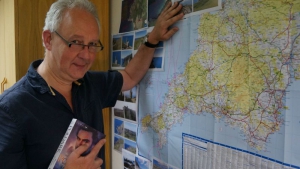 Jon Older: 1st assistant director, Poldark
"Four weeks of our schedule are dedicated to Cornwall – we up sticks and shift down there. However, most of the interiors are shot here in the Bottle Yard.
"Everyone was surprised to be honest at Poldark's success – oiled male bodies may have something to do with its success though! It's a classic romantic story – it's all about the passion and it's always had an appeal and it's been done really well.
"The studios are really, really useful – it's a big production space and it is really accessible. We can put people up, we have access to lots of different craftsmen, it's a very user friendly space and it has lots of car parking.
"The film industry is still Londoncentric but it's getting so hard to film there now and people are very willing to move out now."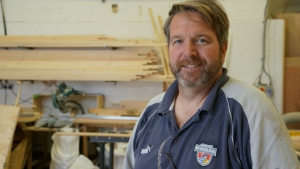 Don Smith: Owner of set construction company SetSmith
"It's all pretty simple – normal trades applied in a different way. We have to be very imaginative in the way we approach things.
"We create smoke and mirrors working under the guidance of a designer, they come up with the ideas and we try to make them work. We've built everything really – aircraft's, bedrooms, castles, hospital wards, tunnels under water.
"A designer comes up with an idea and we use our repertoire of techniques to make it. We did a production last year set in a prison and they wanted it done in metal – we did it all in wood and it looked better than the metal ones.
"We build in studio, we build in the workshop to go to the studio and we build to go to location. Some sets are so large we build in location like the 17th century New England settlers village we built in the Forest of Dean for the series New Worlds.
"I love the variety – not knowing what every day will throw up. It is long hours and hard work but it's really enjoyable – I go to work and I create something every day."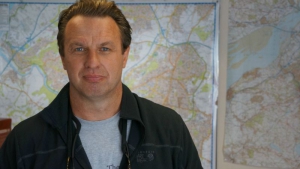 David Johnson: Freelance location manager
"I've worked mainly on Bristol-based productions from Casualty in the 90s through to Skins and more recently Poldark.
"Lots of things make a great location but for me what it looks like is obviously the most important thing. Bristol is absolutely brilliant for having a little bit of everything.
"I love South Bristol Swimming Pool where we shot Skins and Sherlock. I actually love the council tower blocks in Redcliffe and Lawrence Hill – we have done lots of stuff there.
"When Casualty left Bristol, people felt bereft. Then there was a hiatus before the Bottle Yard started – everything went to Cardiff and Bristol went quiet. But now it has revitalised Bristol.
"I don't think it will ever be the same as when we had a long-running show like Casualty where we were out filming every day, but for freelance people Bristol is a very good place to be."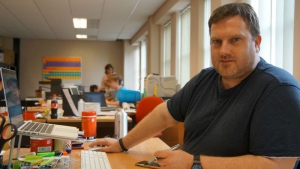 Dave Packham: Freelance production coordinator
"I facilitate everything within the shoot. All crew come to you with queries. You make sure actors are looked after, scripts out to everybody, schedules out to everybody and I inform executives how we are doing with daily progress reports.
"I do lots of weird and wonderful things to make sure it all runs smoothly and everybody has what they need.
"It's not as glamorous as people may think. The hours are horrendous. It's hard work and it's manic but the reward of seeing things at the end on screen – especially if it is a good programme – is really nice.
"The Bottle Yard enables productions to come to Bristol without setting up from scratch. Before the Bottle Yard existed I did Lark Rise to Candleford based out of two warehouses in Yate which weren't purpose-built. We even had to put in phone lines.
"The Bottle Yard has studio space, office space, other companies who can facilitate what you may need – be that scaffolding or camera hire. It is a ready made facility which makes everyone's life easier."
Read the full article on the Bristol 24/7 website.